DDH (Developmental Dysplasia of the Hip) screening
Why is it important to have a DDH screening soon after birth?
We can diagnose it safely if the hip joint is underdeveloped or the bones of the joint are not in the right position.
It is suggested to do the screening test at the age of 4 weeks, however, the ultrasound scan could be done up to 6 months of age.
Book an appointment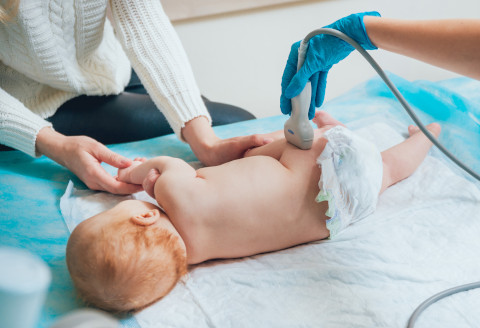 When is it necessary to screen a baby?
Since it is not a paintful test, it is suggested to screen every baby between 0-6 weeks of age.
In case
a close family member has/had DDH
baby was born breech position
physical examination showed any concerning sign
the ultrasound examination is absolutely reasonable.
How should a baby be prepared for the examination?
The examination does not require any special preparation.
How does the examination happen?
After physical examination the baby lies on their side. A small amount of gel is put on the ultrasound transducer and we take photos of the baby's hips. We check both hips. The whole examination takes about 15 minutes.
When will we know the result?
Right at the examination we explain the result.
In case you need any further information, please do not hesitate and contact us at info@balanda.hu.